Blog

Opportunities for Partisan Political Action in British Columbia in 2020
January 22, 2020 | Levi Minderhoud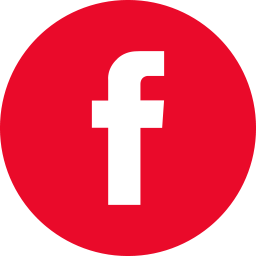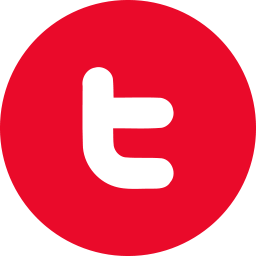 Since its inception, ARPA Canada has chosen to be non-partisan. This allows ARPA as an organization to better engage with elected officials regardless of their partisan colour.
But we certainly encourage you to be partisan. Officially joining the political party that most closely aligns with your political philosophy gives you a special and amplified voice. It allows you to vote in party leadership races, local candidate nomination races, and policy conventions. Leadership races determine who will be the next leader of a political party. Local candidate nomination races determine who will be the candidate for a political party in a given riding. Policy conventions determine what the official party policy is. Since far fewer people vote in these partisan activities than in general elections, your vote has greater weight in these partisan elections.
Thankfully, partisan political engagement is as easy as one, two, three.
Decide to join a political party
Decide which political party to join
Engage in important partisan activities as they arise
As ARPA's British Columbia Manager, I'm going to discuss involvement in partisan politics in the British Columbian context, but the same principles apply anywhere in Canada.
Step 1: Decide to join a political party
The first step to partisan political engagement is the simple decision to join a provincial political party. Joining a political party allows you to have political influence far beyond simply voting in a general election.
Let me give you an example. The riding of Abbotsford-Mission, like many other ridings across British Columbia, is a relatively safe seat for the BC Liberal Party. The BC Liberal candidate has always won the riding by over 20 percentage points and by over 5000 votes (out of 25,000) in the general provincial election. In political terms, that is an enormous margin of victory. Each individual vote has little impact on which party wins that riding.
But before the general provincial election, the BC Liberal Party (and all other parties) had to nominate a candidate. In the nomination race, local party members voted for whomever they wish to be the party's candidate in their riding. In the last BC Liberal nomination race for Abbotsford-Mission, the winning candidate won by 13 votes. Less than 200 people voted in that nomination race, making each vote 125 times more impactful than a vote in the general provincial election.
Your individual political influence is far greater in leadership races or policy conventions than in general elections, too. Many don't realize that the most impactful votes occur before the general election.
Your individual political influence is far greater in nomination races, leadership races, and policy conventions than in general elections
But is it really all that important to participate in choosing a party's local candidate? Don't most candidates within the same political party have similar views?
Not necessarily. Competitive political parties are typically "big-tent" or "brokerage" parties that try to appeal to different segments of the population. Individual candidates of the same party may have very different positions on important issues. One BC Liberal candidate can be pro-life and another pro-choice. One BC NDP candidate can support funding and freedom for Christian schools while another wants to pull all funding from Christian schools. One BC Green candidate may favour a very broad ban on conversion therapy, but another candidate may support Christian counselling for gender dysphoria.
Step 2: Decide which political party to join
I hope I have illustrated the importance of involvement in a political party. Of course, the next question is: which political party should you join?
I will not urge you to join any particular party, but I still urge you to join a political party
I will not urge you to join any particular party, but I still urge you to join a political party and to be a salt and a light within that party. The choice is up to you. Do some research on the major political parties in British Columbia. Picking which political party to join can be difficult because a political party will rarely, if ever, represent your political values on every issue. The political party that best represents your views may also have a relatively small chance of winning a general provincial election or even your riding. Both of these factors – political philosophy and electability – require consideration when deciding which party to support.
If you are familiar with the ideologies and policy platforms of federal political parties, the following graphic helps to compare federal and provincial (British Columbia) parties of the same name. (Although these federal and provincial parties have the same name, they often are not formally connected with each other and may have differing political philosophies.)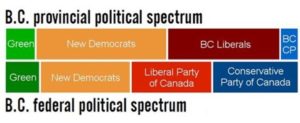 Below is an introduction to each of the five most notable political parties in British Columbia. The parties are listed in order of size (number of MLAs). The BC Liberals, BC New Democrats, and the BC Greens are the mainstream (or "brokerage") parties in British Columbia; their main policy priorities usually do not touch upon life issues (abortion and euthanasia), Christian education, or issues dealing with gender and sexuality. Although the BC Conservative and the BC Christian Heritage parties focus more on these issues, they have a lower likelihood of being elected. Below, I've linked each party name to its website, where you can learn more.
Leader: Andrew Wilkinson
2017 Election Result: although the party narrowly won the most seats (43) and the largest percentage of the popular vote (40.4%) in the 2017 election, it became British Columbia's official opposition
Philosophy: As a centre-right party, the BC Liberal Party draws support from both federal Conservative and federal Liberal party supporters. It brands itself as the party of free enterprise and tends to be fiscally – although not socially – conservative. Although the party welcomes members of all faiths and beliefs and some members are pro-life, the BC Liberal party is officially pro-choice. SOGI 123 was introduced under the previous BC Liberal government. Adding "gender identity and gender expression" to British Columbia's Human Rights Code was unanimously accepted by BC Liberal MLAs (although some MLAs conscientiously abstained from voting). The party has no official position on conversion therapy, no plan to bolster palliative care services, and little interest in changing the current status of independent schools.
The BC Liberal Party supports balanced budgets and would by-and-large maintain the current level of income taxation. It introduced British Columbia's original carbon tax and supports the current level of carbon taxation. The party is committed to achieving British Columbia's current climate change target of reducing 2007 greenhouse gas emissions by 80% by 2050. In terms of Indigenous policy, the party focuses on training, educating, and increasing business development for First Nations. Because the party has governed British Columbia for virtually the entire twenty-first century (except for the past two and a half years), the BC Liberal Party largely supports the status quo.
Leader: John Horgan
2017 Election Result: although it won the second-most seats (41) and second-largest share of the popular vote (40.3%), the BC NDP currently governs British Columbia with a minority government supported by a supply-and-confidence agreement with the BC Green Party
Philosophy: The party occupies the centre-left of the political spectrum. Although the party has historically been unabashedly pro-choice and "progressive" on LGBTQ issues, the BC New Democratic Party has largely left life, gender, and sexuality issues alone in the first few years of their new government. However, their entire caucus voted in favour of adding gender identity and expression to British Columbia's Human Rights Code and the NDP government has maintained SOGI 123 in public schools. The BC NDP has historically been opposed to independent schools but has not recently expressed any interest in changing the law in that regard.
The main priorities of the current NDP government revolve around making life more affordable and sustainable. They are in the midst of raising the minimum wage, expanding access to public childcare, raising taxes on the wealthiest British Columbians, raising the carbon tax, and encouraging a transition to a low-carbon economy. The party tentatively supports balanced budgets, but "not at the expense of children, seniors, families and the most vulnerable." The BC NDP also is beginning to implement the United Nations Declaration on the Rights of Indigenous Peoples (UNDRIP).
Leader: Adam Olson (interim leader)
2017 Election Result: the party is currently supporting the BC NDP's minority government with its 3 seats and 16.8% of the popular vote
Philosophy: The left-leaning BC Green party is guided by 6 core principles: participatory democracy, sustainability, social justice, respect for diversity, ecological wisdom, and non-violence. Like the BC NDP, the BC Greens strongly gravitate towards pro-choice and LGBTQ perspectives but have not appeared to prioritize these social issues in practice. The main exception was former party leader Andrew Weaver's bill to ban conversion therapy (which did not pass), though the party was somewhat open to reasonable amendments.
Unsurprisingly, the BC Greens prioritize environmental issues such as increasing the carbon tax and aggressively reducing greenhouse gas emissions. The party also strongly supports the subsidization of public and private daycare. The party is committed to streamlining the tax system and increasing the income tax on the highest-earning British Columbians but is committed to balancing the budget over the course of their mandate. The BC Greens propose joint management of land and natural resources with First Nations and a reinvigoration of the treaty process.
Leader: Trevor Bolin
2017 Election Result: 0 seats in the Legislature and 0.5% of the popular vote
Philosophy: This right-wing party tends to be fiscally conservative, but it does not have any recent history of social conservativism. The party has no position on abortion, euthanasia, gender and sexuality, SOGI 123, or conversion therapy. The party supports palliative care. The BC Conservative party also supports a "per student model" of educational funding in which public and independent schools receive the same level of funding per student enrolled.
The BC Conservative party would mandate balanced budgets except in provincial emergencies. Although the party promises to review the entire tax system, their only specific tax policy is to eliminate the carbon tax. The party promises to reduce greenhouse gas emissions by more than 30% within a year of forming government. It believes in "collaborating with stakeholders" to address Indigenous issues.
Leader: Rod Taylor
2017 Election Results: 0 seats in the Legislature and 0.17% of the popular vote
Philosophy: As its name implies, the BC Christian Heritage Party presents itself as distinctly Christian, standing "on the foundation granted by our Creator: individual dignity, personal freedoms, economic enterprises, and limited government." The party is committed to defunding abortion and to cease providing euthanasia through the provincial health care system. The party wishes to promote palliative care where numbers permit. It supports the definition of marriage as between one man and one woman. The BC CHP would also extend "per student" funding to independent schools and believes that parents have the primary responsibility for raising and educating their children.
The provincial Christian Heritage party supports balanced budget legislation, would hold a referendum on whether to adopt a single income tax rate or a single consumption tax rate, and would hold a referendum before increasing tax rates or introducing new taxes. The party proposes to eliminate all provincial efforts to combat climate change, including scrapping the carbon tax. Finally, the party supports the replacement of the federal Indian Act and supports the introduction of private property on Indigenous reserves.
Step 3: Engage in important partisan activities as they arise
The third step for partisan political action is to be active within the party as opportunities arise. Such opportunities include nomination races, policy conventions, and leadership races. Below is a list of upcoming opportunities for involvement in British Columbia's political parties. More opportunities, especially nomination races, may be ongoing at the riding level for these political parties, but party members are often the only ones notified of these local opportunities.
BC Liberal Party
The party has begun candidate nomination races in 11 ridings: Abbotsford South, Courtenay-Comox, Maple Ridge-Mission, Maple Ridge-Pitt Meadows, Mid Island-Pacific Rim, New Westminster, North Vancouver-Lonsdale, Oak Bay-Gordon Head, Port Moody-Coquitlam, Vancouver-Fairview, and Vancouver-Fraserview. Firm timelines on these races will vary between ridings but will likely end within the coming months.
The party is likely to have a policy convention later this year. A date for the convention has not been set.
BC New Democratic Party
None currently (the BC NDP held their last convention in November of 2019)
BC Green Party
The former leader of the BC Green Party, Andrew Weaver, resigned his leadership role late in 2019. The party is beginning a leadership race in which Green Party members will be able to vote for the new leader in early June. The new leader will be announced on June 27 at the BC Green Party Leadership Convention in Nanaimo.
BC Conservative Party
The party's annual general meeting and convention is scheduled for February 22 in Abbotsford. Party members and non-member observers are eligible to attend.
BC Christian Heritage Party
The BC CHP and federal CHP party will hold a joint annual general meeting in April. Details have not been released.
Conclusion
Holding a membership in a provincial political party and voting within partisan nomination races, leadership races, and policy conventions are very effective ways to bring a Christian perspective within the political system. But, do not wait until you hear of a partisan event to purchase a membership. By that time, it is often too late to become involved. Political parties often only let party members know of these events. By the time the broader public learns of these opportunities (if they hear about them at all), the deadline to become a party member may have passed.
I recently heard a friend remark that politics is one of the highest forms of charity. Political engagement is an opportunity for us to glorify God and work for our neighbor's good. Therefore, "let us not become weary in doing good, for at the proper time we will reap a harvest if we do not give up. Therefore, as we have opportunity, let us do good to all people." ~ Galatians 6:9-10