Countdown to the Election Day – September 20, 2021
With the announcement that Canadians will be going to the polls on September 20th, we look forward to a vigorous debate on several issues that Parliament left unfinished.
Of particular note, this applies to the trio of ongoing, highly politicized bills which all tread on the fundamental freedoms of conscience and expression: Bill C-6 banning so-called 'conversion therapy', Bill C-10 regulating online content, and, most recently, Bill C-36 targeting any expression deemed 'hate speech. ' With the election call, all ongoing bills "die", which means they will need to be reintroduced and debate started over if they are to be revived. While the death of these bills is cause for thankfulness, we also cannot rest on that fact – given our current cultural context and political climate, it is likely they will be revived soon enough. We will be listening for mention of these bills and the parties' intentions throughout the election campaign.
We are also hopeful that debate around the expansion of euthanasia will take center stage in this election campaign after the changes made with Bill C-7 in March. The amount of media coverage the bill was getting, and the outpouring of concern from disability rights groups, mental health organizations and more was putting pressure on the government to change the legislation. While the bill still passed, we should expect that some of the widely held concerns present during the debate on C-7 will make their way into the election narrative – and we should help make sure they do!
As the entire country becomes fixated on this election it is our prayer that you will come alongside us in ensuring that those vying for our votes will hear our concerns and positions loud and clear. Please see below for some initial ideas on how you can get involved, and look for more action items in the week to come.
The ARPA Canada Team
---
How to Talk About the Three Greatest Areas of Concern
At the very end of the last Parliament, there were two crucial bills that had been proposed and debated but never became law on the topics of conversion therapy and hate speech. The bill on euthanasia – C-7 – did pass, but mentioned that Parliament would be looking in the near future to further expand eligibility to euthanasia. As all three of these topics are likely to be brought up soon after an election, we've prepared a single infographic on all three of these topics to equip you to talk about these issues during this election campaign and beyond.
---
The 2021 Election Guide
Below you can find your 2021 Election Guide, a comparison of where each of the six major parties generally stands on six current political issues of note. This guide is designed not only to help you cast an informed vote but also to help you engage with local candidates on these issues of focus. Please note that this election guide was put together on the first day of the election; for a list of the parties' recent notable campaign promises, see the next section.
---
Recent Notable Campaign Promises
In most campaigns, parties make specific promises of what they would do if elected in their official campaign platforms. Here are the 2021 election platforms of each of the parties and a list of the most notable policies that relate to the issues that ARPA has worked on recently.
*Note: the Green, NDP, Liberal, and Conservative parties all have platforms released specifically for the 2021 campaign. The People's Party and the Christian Heritage Party have more permanent platforms that, while updated from time to time, change less between elections.
Promises to end for-profit long-term care
Promises to make the Caregiver Tax Credit refundable
Promises to develop a National Elder Abuse and Neglect Strategy
Promises to make parental leave more inclusive so it covers leave to care for elderly family members, leave following miscarriages, and more flexible and better paid
Promises to oppose any possible government move to diminish access to safe, legal abortion
Promises to re-negotiate the Canada Health Accord to prioritize mental health and rehabilitation services, access to safe abortion services, and access to gender-affirming health services such as hormones, blockers, and surgery
Promises to develop better guidelines to address the weaponization of free expression to promote hate speech and propaganda
Promises to limit government to a regulatory rather than hands-on role in monitoring and moderating online content
Promises to ban conversion therapy
Promises to reform sex work laws in Canada (e.g. legalizing sex work) with a clear focus on harm reduction
Promises to make a universal, affordable, early learning and childcare system a reality
Promises to develop a restorative justice model
Promises to supports education to encourage vaccine rather than coercive vaccine mandates and speak for those who cannot get vaccinated for medical, religious, or cultural reasons
Promises to end private, for-profit long-term care and bring long-term care homes under the public umbrella
Promises to make the Canada Caregiver Tax Credit refundable
Promises to work with the provinces and territories to expand and improve access to palliative care
Promises to make sure that provinces make medical and surgical abortion available in all parts of the country, without barriers
Promises to bring in a new special leave that allows parents to take shorter parental leave at a higher replacement rate
Promises to ban conversion therapy
Promises to support equal access and federal funding for gender transitioning surgeries
Promises to add sexual orientation, gender identity, and gender expression to the list of prohibited grounds for discrimination for hiring
Promises to support a universal, $10-a-day childcare system for all parents
Promises to support mandatory vaccinations for federal workers and for international travel and support vaccine passports for proof of vaccination
Promises to make the Caregiver Tax Credit refundable
Promises to revoke the charity status of anti-abortion organizations (for example, Crisis Pregnancy Centres)
Promises to provide 5 days paid leave for federally regulated employees following a miscarriage
Promises to expand the Medical Expense Tax Credit to include costs that have been reimbursed to a surrogate mother for her IVF expenses
Promises to introduce legislation within the first 100 days to address hate speech
Promises to reintroduce conversion therapy ban within 100 days in office for both minors and adults
Promises to continue their plan for $10 a day daycare
Promises to make vaccination mandatory for federally regulated travel and federal employees
Promises to mandate vaccines on planes, trains, cruise ships, the federal public service, and federally regulated workplaces, support proof of vaccination credentials, and ensure that businesses cannot undergo legal challenges for requiring proof of vaccination
Promises to introduce additional safeguards around euthanasia and will repeal the provision in Bill C-7 that would allow those with mental health challenges to access euthanasia
Promises to invest in palliative care
Promises to introduce the Canada Senior Care benefit, paying $200 per month per household to any Canadian who is living with and taking care of a parent over the age of 70
Promises not to support any legislation to regulate abortion
Promises to expand the Canada Child Benefit by allowing benefits to begin at the 7th month of pregnancy rather than at birth
Promises to give three days of paid bereavement leave in the case of a miscarriage
Promises to criminalize statements that encourage violence against other people or identifiable groups but protect speech that does not encourage violence
Promises to ban coercive conversion therapy but clarify that the ban does not criminalize non-coercive conversations
Promises to strengthen human trafficking and sexual exploitation laws
Promises to convert the Child Care Expense tax deduction into a refundable tax credit covering up to 75% of child care costs for lower-income families
Promises to support frequent testing for federal workers and would require a negative test result for travel by train, plane, or ship for those who are not vaccinated
Promises to restrict the definition of hate speech in the Criminal Code to expression which explicitly advocates the use of force against identifiable groups
Promises to repeal any existing legislation or regulation curtailing free speech on the internet and prevent the reinstatement of section 13 of the Canadian Human Rights Act.
Promises to repeal C-16 (Gender Identity) and M-103 (Islamophobia)
Promises to ensure that Canadians can exercise their freedom of conscience to its fullest extent
Promises to repeal the Multiculturalism Act and eliminate all funding to promote multiculturalism
Promises to oppose and repeal mandatory vaccines, vaccine passports, and regular testing
Promises to restore protection from assisted suicide and euthanasia
Promises to support better access to palliative care
Promises to protect all innocent human life from conception and oppose abortion
Promises to restore the legal definition of marriage as the union of one man and one woman
Promises to support free speech
Promises to defund abortion, euthanasia, and gender reassignment surgery
Promises to protect the conscience rights of health care professionals
Promises to recognize that parents are the primary caregivers and educators of their children
Promises to support parent caring for their children rather than subsidized daycare
Promises to protect children from harmful ideologies such as misguided theories such as gender fluidity, unproven climate change, economic socialism, etc., in the classroom
Promises to allow all Canadians to be free to practice their religion as long as it does not harm others
Promises to oppose mandatory vaccinations and support the ability to choose whether or not to be vaccinated
---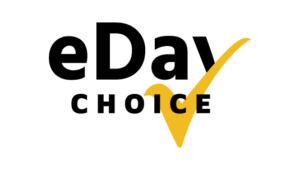 Are you willing to help out a candidate near you who supports the same values you do?
Although ARPA is not directly involved in it, eDay Choice is a new website put together by a coalition of organizations seeking to provide you with a real choice that represents your views and values in the upcoming election.
You can find where candidates stand on a variety of issues, and even connect you with your closest pro-life candidate to make a real and impactful difference in the 44th Parliament on issues like abortion, euthanasia, and more.
You can alternatively use the printable form below and you and your family can join up with a local candidate that you support!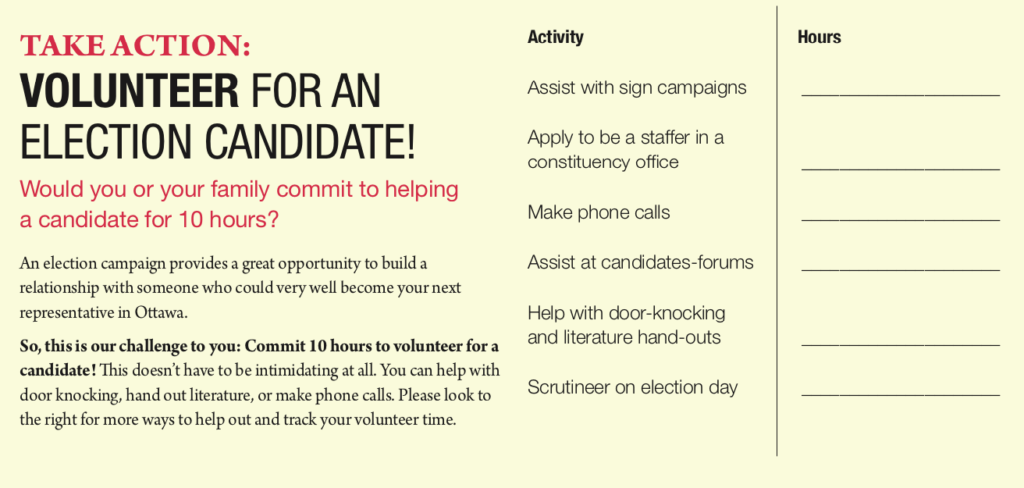 A GUIDE TO HOSTING ALL-CANDIDATES MEETINGS
All-Canadidates Meetings are opportunities for local candidates and local voters to directly interact. Rather than simply hearing party leaders make promises, voters at all-candidates meetings can get to know the personal values and positions of their local candidates. Organizing all-candidates meetings are excellent opportunities for churches and Christians to focus discussion on key issues that matter to them, such as abortion or euthansia or free speech. We hope that this guide will help churches, ARPA chapters, and other Christian organizations host an all-candidates meeting of their own and positively shape the public discourse around election time.