Article

Banning pro-life info around abortion clinics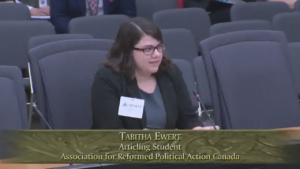 ARPA made a presentation last week to the Ontario Legislature's Standing Committee on General Government. The topic was Bill 163 – Ontario's pending "bubble zone" legislation that would prohibit demonstrations outside abortion clinics in the province.
The presentation was made by ARPA articling law student Tabitha Ewert, and she started by referencing this spring's court victory on Ontario's ban on the publication of abortion statistics.
Here's a partial transcript of what she said:
The court found in that case that censoring of such data was an unconstitutional violation of free expression. In essence, the court recognized that there is an ongoing discussion about abortion in this province, and that the government cannot interfere with that discussion.

And so we are happy to see that this government is bringing FIPPA in line with that ruling, but we have major concerns about the rest of this bill and the way that it interferes with the ongoing public discussion.

I have two main points that I would like to make regarding this bill. The first is that it's unnecessary – we have Criminal Code prohibitions that cover all of the extreme behaviours such as assault. And the second point I want to make is with regard to freedom of expression and peaceful protestors who would be covered by this bill.

So first of all, it is unnecessary. There is just no evidence that without this bill women's safety or access to abortion would at all be infringed. In Canada, we have safe access to abortion. And part of the reason for this safe access is the fact that we have Criminal Code prohibitions that prohibit such things as assault, threatening, intimidation, or harassment. These provisions cover abortion clinics just as they cover the rest of the province.

And the one incident that is referred to in support of this bill – the alleged spitting in Ottawa – that is assault. That can be charged under the Criminal Code. There's no reason for the province to supplement the Criminal Code in that situation. In fact, it is unconstitutional for them to do so because only the Federal government can pass Criminal Code prohibitions. And the sponsor of this bill, the Attorney General, should be prosecuting such crimes rather than inventing new laws that also silence peaceful protestors.

And for my second point – the freedom of expression – making it illegal to show disapproval of abortion; that is not about protecting patients or physicians. That is about silencing dissent on the issue. It's about silencing pro-life speech. But we have no right to be free from dissent in Canada, no matter what issue is at stake.

I just want to be clear on this point, because there's a lot of rhetoric around this issue. Protecting women's rights or making a step forward for women's rights, cannot include fining and imprisoning women who disagree.

And that is what this bill does. It says if you hold a certain opinion, you cannot express it. Your constitutional rights are not protected. That is unconstitutional, and it does not aid the important ongoing public discussion that is going on in Ontario over the issue.

For extreme behaviour – for harassment, for assault – that is covered under the Criminal Code. For peaceful protestors, there is no need to silence them in this ongoing discussion.
You can watch a full video of Tabitha's appearance at this link.