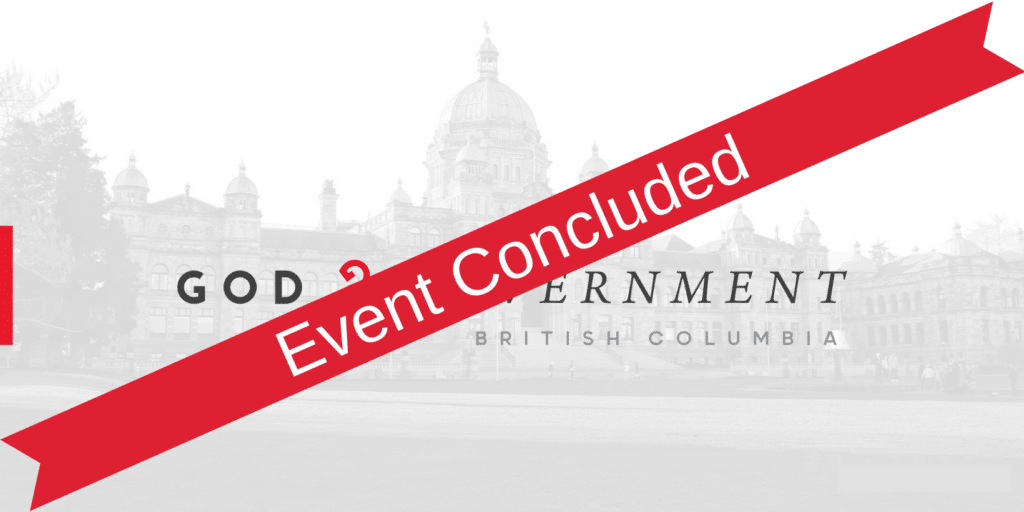 Updated: Due to a conflict with another Reformed event, ARPA Canada is condensing God & Government British Columbia Conference, originally scheduled for April 29-30, to just the evening of Friday, April 29.
This God & Government Conference is designed to educate, equip, and encourage Reformed Christians through training, action, and the opportunity to strategize with other Christians from around British Columbia. While this signature event is usually hosted in Ottawa, we are hosting provincial versions of this conference in 2022 to alleviate travel challenges and devote attention to provincial issues.
We look forward to welcoming adults, university students, and upper high school students from across the province to Langley for this signature event!
---
Date: April 29
Location: Christ Covenant Church (6866 Glover Rd, Langley, BC)
Cost: By donation
Registration Deadline: No registration required
Details and Schedule:
Doors will open at 6:30 pm, and the conference will begin promptly at 7:00 pm. Andre Schutten, ARPA's Director of Law & Policy, will deliver a "State of the Nation" address that investigates the impact that Christianity has had and continues to have on our country and province. The evening will also feature two other keynote speakers who will delve into how Christian citizens can be involved in two underappreciated but crucial avenues for political engagement: municipal politics and political parties.