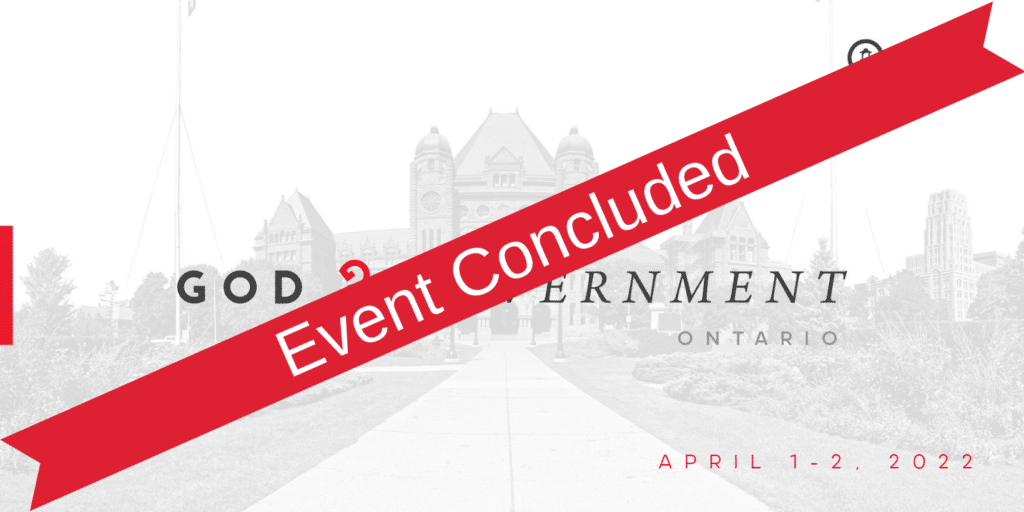 April 1-2, 2022 in Brantford, Ontario
ARPA Canada is hosting a special two-day Ontario God & Government event, April 1-2, 2022! This signature event has previously been hosted in Ottawa, however, to alleviate challenges of travel, we are hosting this event provincially for 2022.
G&G ON is designed to educate, equip, and encourage Reformed Christians through training, action, and the opportunity to strategize with other Christians from Ontario.
We look forward to welcoming 100 attendees (ages 16+) from across the province to Brantford, ON for this signature event!
---
DETAILS:
The conference will be from April 1 – 2, 2022 with participants arriving for registration at 12:30pm on Friday April 1st, and concluding on Saturday, April 2nd at 4pm. The conference will be hosted at the Living Water Reformed Church in Brantford Ontario.
Address: 22 Holiday Drive Brantford ON
---
SCHEDULE:
April 1: Registration at 12:30pm. Several speeches and workshops through the afternoon will be concluded with a dinner and keynote speech in the evening concluding at around 9pm.
*Friday: Dinner is included.
April 2: Beginning at 8:30am with breakfast, Saturday will be a day of training, workshops and activities to help attendees understand the political process and to know how to engage in grassroots action to bring about positive change.
*Saturday: Breakfast and Lunch provided.
Here's a sneak peek at the agenda:
FRIDAY
12:30 pm – Registration
1:00 pm – Opening and Welcome
1:30 pm – 'Conscience in Healthcare' – Daniel Zekveld
3:00pm – Ontario ARPA Chapters' Presentations
3:30pm – 'Hamilton Bus Ads, Crisis Pregnancy Centres, and WNAL' – Tabitha Ewert
5:30 – 9:00 pm – Evening Banquet: Keynote 'Freedom in a world of confusion' – Colin Postma
SATURDAY
8:30 am – Breakfast
9:30 am – 'Mental illness and assisted suicide' – Ryan Mans
10:30 am – CareNotKill.ca Workshop
12:00 pm – Lunch
1:00 pm – 'Meet your MP' training
2:30 pm – 'Planning for action in Ontario in 2022 and beyond'
---
APPLICATION DEADLINE: March 23rd
COST: $30 delegate fee per-person.
*Delegates must apply and receive confirmation of their acceptance.
**Attendees are responsible for their own transportation to and from Brantford and accommodations. Locals are welcome to travel to-and-from home. Alternatively, there is a Best Western directly across the road from Living Water Reformed Church, and several hotels within very short distance.