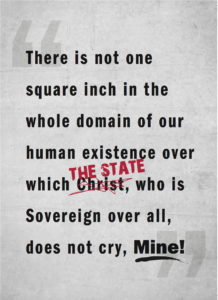 The annual ARPA Fall Tour is underway. The tour started yesterday in Winnipeg, and there's 20 stops planned before it wraps up on October 20th in Neerlandia, Alberta. The theme of this year's tour is "Who is Sovereign", and ARPA Executive Director Mark Penninga says a lot of work has gone into making the presentations engaging and practical. "Our goal is that everybody leaves educated, equipped, and encouraged." Discussion items include the
Wall case
that's being argued before the Supreme Court of Canada, as well as various government initiatives on education and child rearing. The events will also introduce a one-year action plan to help supporters engage in a relationship with their political representatives at the federal and provincial levels.
Penninga says the tour acknowledges that people are busy, and that this may be the only time for some of them to actually engage in political action. Because of busy schedules, he says, "important developments in society often go on without us knowing about them or really doing anything about them. It takes less than two hours to attend one of our presentations, and in that short amount of time, you'll quickly get up to speed and equipped to make an impact for the rest of the year."
The tour stops are all during the evening, so the staff who are doing the tour are using their days to make presentations in Christian schools in most of the tour stop communities.
You can see the full tour itinerary here.