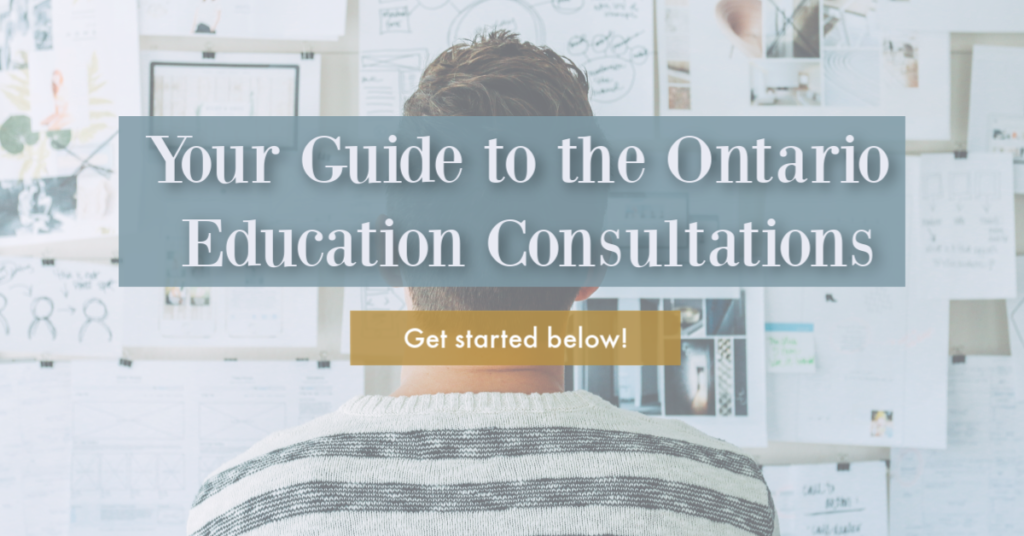 ---
How do I take part in the consultations?
---
There are three ways you can get involved.
Open Submission
Go to this link: https://www.ontario.ca/page/for-the-parents
Online submission form: through the online submission form, you can provide your opinions about each issue with up to 500 words.
Written submission: a written submission can be emailed to 

[email protected]

. Be sure to (a) include your name or the name of your organization, (b) add "provincial consultations" as the subject, and (c) include a submission as a PDF or Word document. You can share your thoughts about the sexual education curriculum, the Parents' Bill of Rights, or any other area of education.
Online Survey
Go to: https://www.ontario.ca/page/for-the-parents
You will need to register your email address to receive an email with a link to the survey. The registry warns that it may take up to 48 hours to receive this email. The survey will take around 15 minutes.
The survey contains a number of questions on the quality of education with regard to math, finances, skilled trades, etc.
Near the end of the survey, there are questions about various aspects of the sexual education curriculum which should or should not be taught, and at which age these concepts should be presented, as well as how much you trust sources of information for sexual health.
Telephone Town Halls
The telephone town halls have now concluded and are closed.
---
Ok, what do I say or write?
---
As you respond through the various means to this consultation, here are a few thoughts about principles for the sexual education curriculum, as well as ideas for the Parents' Bill of Rights. We encourage you to use these ideas, expand on them, and present them in your own words.
As always, please remember to keep your comments respectful. We want to ensure that our voices are heard for their content, and not ignored because of tone.
Thank you for engaging with this consultation process and sharing your thoughts with our leaders!
Sexual Education
We've created five specific recommendations for the Ontario sex ed curriculum.
A brief description of each recommendation is found below.
Age-appropriate biology and anatomy.

Focus on changes that children are about to experience.
Children should learn how to respect each other and understand the differences between boys' and girls' bodies.
There should be no indication that children can experiment sexually at this young age.

Consent is not enough.

Children should know how to respect each other and their bodies.
Teenagers are unable to properly evaluate risks. Abstinence is the best way for children to avoid negative physical and mental health consequences of sexual activity.
Commitment and trust in relationships.

Sexting and social media.

Children should understand the dangers of the web, such as adult predators and the risks of sexting.
It is illegal to share sexual content of others, and unwise to share sexual content of oneself.

Pornography's impact.

Wynne curriculum did not mention pornography.
Children should be aware of the negative and harmful impact of pornography.
Pornography leads to addiction and damages physical intimacy.

Prioritize Health.

Abstinence should be encouraged, to guard against STIs, unwanted pregnancy, and physical and emotional harm.
Sexual activity in youth increases the risk of depression and suicide.
Should discuss the dangers of sexually transmitted diseases, and how to avoid them.
We recommend including at least one very practical suggestion.
Some examples:
'high school sex-ed should include education about pregnancy.' This should include information about what a pregnancy entails, including ultrasound footage, and advice on what to do if a student becomes pregnant. Students should also be encouraged to talk to a doctor and their parents if they think they might be pregnant.
'high school sex-ed should include the correlation between sex-trafficking and their own actions.' This could include viewing pornography which includes sex-trafficking victims; not knowing the warning signs of their peers being trafficked, and more. Be sure to include encouragement to talk to parents or professionals if they see these warning signs.
The 'Parents' Bill of Rights'
The Ontario government is seeking feedback on the creation of a new 'Parents' Bill of Rights.' What follows are some ideas you can use to respond:
The Universal Declaration of Human Rights states that "Parents have a prior right to choose the kind of education that shall be given to their children." (Article 26, section 3).
Further, under the Charter of Rights and Freedoms, parents have the right to pass their religion on to their children, and the liberty to raise their children as they see fit.
The following are some principles that we suggest should guide the creation of a Parents' Bill of Rights
The family is the basic unit of society and its well‑being should be supported and preserved
Parents should be presumed to be acting in the best interest of their children, unless they have proven otherwise.
The State is ill-equipped to make decisions in the best interest of a child.
Parental rights should include directing education, upbringing, moral and religious education, and healthcare decisions, for their child.
Children are dependent on their parents to protect them and guide their healthy development.
Parents should have the right to access school curriculum, and to express concerns to educator and school board.
Parents should have the right to access information about the nature and purpose of school approved clubs and activities.
Parents should have the right to opt out of anything a parent believes will be harmful to their child, or which is contrary to religious beliefs.
If an educator is showing explicit content, or teaching sexual education, they should be required to get parental consent.
---
Finished the consultation and want to do more?
---
Did you take part in our 5-step Campaign? Once you've completed the Ontario Consultations, select one of the 5 EasyMails below to make sure your concerns are shared with your MPP as well!
Principle 3:
Social media and sexting